If you were looking for something specific you probably got redirected here from an old link to my (now gone) drupal blog. I migrated all the pages & blog entries to this blog, so just use the search here to find what you were looking for.
http://www.spieleradar.de/PC/spiele/news/world-of-warcraft-cataclysm/6_16906_13264/kein-mitternachtsverkauf-in-oesterreich.html
Wish you a speedy recovery!

More on my Star Trek Blog:

(currently offline: www. startrek. or. at/blogpost15 )
Just why do we have to run a huge installer (5.29 GB) [which does *not* tell you first that you need more than 15GB free space where WoW is installed as temporary space btw .. I think it was about 16 or 17GB .. - problem is it just aborts and it does run for like 2 hours or sth like that ] but just after the installer we get the new launcher: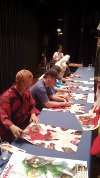 This is what I got for clicking on the Final Fantasy XIV Config entry:




Although I am studying Japanese this is too much for me at the moment i gotta get my dictionary ... I assume it means i did not run it yet.

by the way my patcher has been stuck for ages anyone got it working? ... My patcher keeps going to 0 down and upload, a couple of 'local connections' (weird naming if you ask me..) and the occasional ~ 800B/sec download then uploading it a bit ..