Viewing posts for the category Anime
Posted by: lordvan in Anime 3 years, 9 months ago
So just because I can a quick list of what I am watching (or will watch):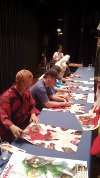 Was at Aninite 2008 this weekend. Was good fun - not the same as Animagic, but that's a completely different 'size' of convention :)
I'll post some photos and/or videos at some point soon (I hope ;))

Also bought Guitar Hero On Tour for the Nintendo DS at the weekend. This game is great fun although I'm nearly finished with career mode :(
One funny thing is the languages. The thing is my DS was set to english not german for some games I got as I prefer them in english. now Guitar Hero On Tour does not have English . .instead it decided to use the next language available for the game ... Spanish .. I didn't understand a lot and decided to put my DS to german and then I knew what I was doing .. I think it'd be nice if the user could specify the order of preferred languages instead of just choosing one ..

Also bought the 'new' Iron Maiden Documentary / Live DVD. Still gotta watch that though so will put some sort of review and/or comment later.


Had a quite busy weekend and (something to blog I guess).
Friday was a surprise birthday celebration for a good friend's girlfriend in the Culture X Club. We 'only' stayed until 01:00 there though - even though it went on until like 03:00 :)
Saturday had a bit of a lay-in and then went shopping in the afternoon and then to a Galactic Friendship Meeting. After that went to some MeetUp Meeting of English speaking people in Vienna. Personally I enjoyed the Galactic Friendship meeting more, but the MeetUp was ok too ;) .. Again got home at nearly 01:00
Had to get up early on sunday though to go to the Comic&Figuren Börse in Vienna. We did manage to not spend too much and finish up by like 11:00 to get back home :)

Looking forward to the Nightwish concert at the Gasometer in Vienna.
On a side note both the Metal Hammer and the Rock Hard magazines were quite good with Articles about Iron Maiden, Metallica, .. and both with cds this week (although the Rock Hard magazine is like XXL format - meaning A3 unopened - and doesn't really fit into any bags or anything so I gotta read it at home)
I'll try to blog about the Nightwish concert again on Friday.